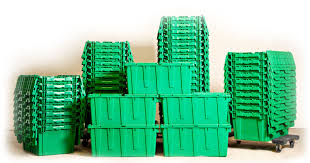 February 13, 2023
/
/
Comments Off

on Sustainable Moving and Storage Solutions
February 13, 2023
/
/
Comments Off

on Sustainable Moving and Storage Solutions
Sustainable Moving and Storage Solutions
As the world's population grows, so too does our carbon footprint. That's why more and more industries are turning to green solutions for their services. The moving and storage industry is no exception – in fact, it's leading the charge in sustainable initiatives. Let's explore why going green is becoming the preferred choice for businesses in this sector.
The Benefits of Going Green
By using sustainable practices, companies can help reduce their carbon footprint while also making a positive contribution to the environment. This not only benefits nature but also helps businesses save money on energy costs over time. Additionally, many customers are willing to pay more for green services, which can result in increased profits for those who make the switch.
In the moving and storage industry, there are several ways that businesses can go green. One of the most popular is investing in eco-friendly packaging materials such as recycled cardboard boxes or reusable packing bins. These materials are often just as effective as traditional materials but with a much smaller environmental impact. Additionally, some companies have begun offering electric vehicles to move goods and furniture around instead of gas-powered ones – this reduces both emissions and noise pollution.
The Future of Green Moving and Storage Services
As technology advances, so too do our capabilities when it comes to providing sustainable services. For example, many moving and storage companies have started using solar energy to power their facilities, reducing their dependence on fossil fuels significantly. Additionally, some companies have begun using virtual reality technologies to give customers an interactive experience without having to leave their home – reducing travel-related emissions even further. Finally, many companies have committed themselves to planting trees or donating proceeds from certain sales towards conservation efforts – helping preserve nature for generations to come!
Going green is becoming increasingly important in all industries – including those related to moving and storage services! By investing in eco-friendly packaging materials or utilizing renewable energy sources like solar power, businesses can reduce their carbon footprint while still providing customers with quality service they expect from them. In addition to being good for the environment, these sustainable practices can also help businesses save money on energy costs over time and increase profits from customers who prefer greener services. Birch Circle Movers is going green by utilizing eco-friendly packing bins, going paperless, and reducing the need for stretch wrap. It's clear that going green is here to stay!